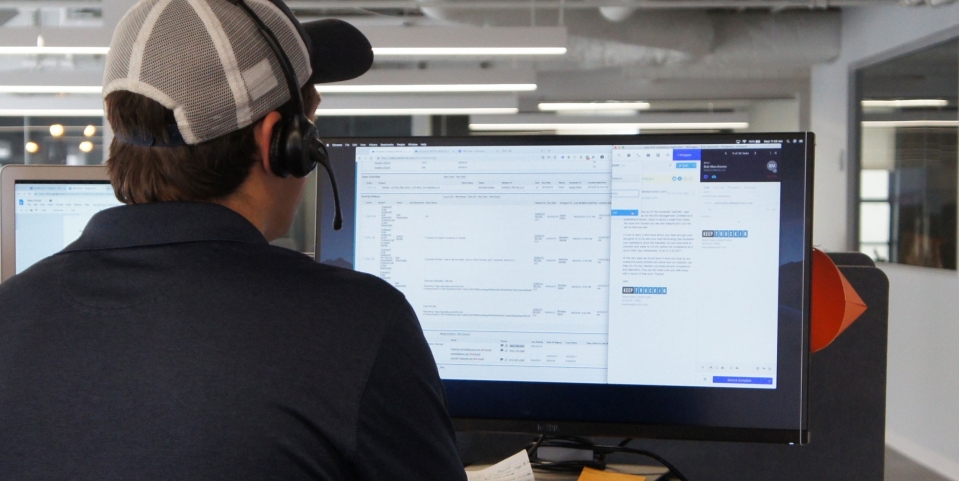 Enhanced developer tools bring greater efficiency and scalability
to customers, partners and developers
SAN FRANCISCO December 11, 2019 — KeepTruckin, the leader in IoT fleet management technology, today announced the release of its Modern Developer Platform, featuring Developer Portal and Driver Workflow tools. The platform builds on the company's mission to deliver innovative technology solutions that connect the world's vehicles.
KeepTruckin's Modern Developer Platform gives partners, developers, and customers access to the company's powerful APIs so that they can build and utilize tailored fleet management solutions. These enhanced developer tools bring users unparalleled efficiency to streamline business-critical workflows across logistics for fleets of all sizes.
The Developer Portal, an industry first, features detailed API documentation and a self-service model that gives users seamless access to the tools needed to register, build, and publish integrations. KeepTruckin's Driver Workflow tool, available within the API documentation, dramatically simplifies operations by integrating with any dispatch or Transportation Management System (TMS).
"We are excited to continue evolving the fleet management industry and help companies of all sizes run more efficiently with our best-in-class technology solutions," said Ryan Johns, CTO of KeepTruckin. "Our modern developer platform will enable customers and partners to simplify workflows, integrate solutions and contain costs, so they can continue to grow."
The KeepTruckin Modern Developer Platform's collaborative infrastructure offers partners and customers the following advantages:
Developer Portal: With detailed API documentation and a self-service model, the Developer Portal empowers developers to quickly integrate KeepTruckin with third-party applications. With an enhanced infrastructure, the Developer Portal gives customers and partners more control over what data they share from integrations, providing them with greater security and privacy. The portal will further grow KeepTruckin's App Marketplace, which features industry-leading integrations that streamline business-critical workflows and allow fleets to build custom management solutions. Recently added apps include: WEX/EFS Fuel Tax Services and FuelTaxOnline by ProMiles®, for simplified fuel tax reporting; RTA Fleet Management Software, for preventative maintenance scheduling; and Idelic, for valuable insights into driver safety and performance.
Driver Workflow: This tool will help customers and partners interact with KeepTruckin's APIs to bridge the communication gap between drivers and back-office operations. With Driver Workflow, drivers can receive dispatch information from their designated TMS system directly to their KeepTruckin App. Additionally, any updates made by the driver via the KeepTruckin App will feed back to the TMS. Through workflow, drivers can also launch CoPilot GPS Navigation from the KeepTruckin App to help them safely navigate to their destination.

With GPS location data, messaging, HOS, driver performance, and full dispatch workflow, partners can integrate directly from any TMS system to display enriched data in KeepTruckin's mobile application. Additionally, the offline support capability ensures that any updates made while drivers are in offline mode will be automatically updated back to the server when they have cell reception. KeepTruckin's modules enable a full circle of service functionality—including customizable forms and geofencing—for an integrated dispatch experience not available anywhere else.
To learn more about KeepTruckin's Modern Developer Platform — including the Developer Portal and Driver Workflow — visit KeepTruckin.com.
About KeepTruckin:
KeepTruckin is the leader in IoT fleet management technology. KeepTruckin's modern hardware and cloud-based software help companies improve the safety and efficiency of their operations. With one platform that spans asset management, video safety, Electronic Logging Device (ELD) compliance, and dispatch, KeepTruckin provides an integrated fleet management system that scales to meet the needs of our 60,000 customers, from small trucking companies to Fortune 500 enterprises.
Headquartered in San Francisco, KeepTruckin has 1,400 employees and has raised $227 million from Google Ventures, Index Ventures, IVP, Scale Venture Partners, and Greenoaks Capital.
To learn more about KeepTruckin, visit KeepTruckin.com.
Contacts:
Parinaz Farzin
parinaz@aboveparpr.com
310.600.6746